Proud to support
British Dairy farming
Welcome to Raglan Dairy. Established in 2014, we supply a full range of locally produced dairy products, including fresh milk, fresh single, double, whipping & clotted cream, butter, plain & fruit yoghurt, crème fraiche, buttermilk and free range eggs. All sourced from within 30 miles of our base in Raglan, Monmouthshire.
We are proud to supply households on our early morning doorstep delivery service, as well as restaurants, schools, nurseries, residential homes & shops.
Please feel free to get in touch to set up a regular delivery on one of our milk rounds, deliveries to your restaurant or business or even if you require a one off bulk delivery for your party or event.
James
Doorstep Milk Deliveries Available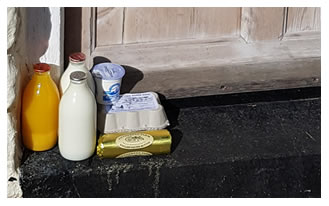 Catering Sized Cartons Available